Vase Glass Art works
Rainbow vase
Collab vase by Misha and Matt. Febuary 2003

Vase for Snoddy
(Boxfanwilly)

This is a collab we did for Bob at his joint after G.A.S. Thanks for checking it out! Bob, thanks for our Snoddy!!!!!!! Team members were: Tim Lindemann Wil Menzies Ben Muniz Collin Troy Lucan Schafe Craig Lewis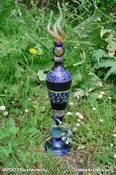 Vases
(Melanie Lewis)

Melanie's line of vases incorporates hand blown vessels adorned with various flameworked components.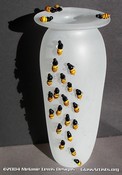 "Ancient Sands"
(Boxfanwilly)

I used multiple encalmos, graal and powders to try to achieve a layered, desert effect. The skull stopper is hollow, so the piece wouldn't be top heavy. The graal stem symbols are from cave drawings. approximately 18" tall. This piece was juried for the 1st All Texas Glass Exhibit at the Galveston Arts Center March 5 thru April 17th. www.galvestonartcenter.org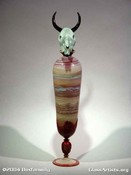 encalmo vessel w/ stopper
(jeremy bizzano)

All coil-potted NorthStar color. The vessel alone is 5 oz. of color. It stands approx. 10 inches tall. The bottom of the stopper has an encased opal, I'll add pics of that later. Made late Feb. 200k5.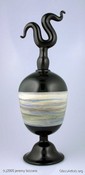 Metallic Vase
(Eugene Rain)

Metallic vase by Matt G. Using exotic powders, Matt gets some crazy metallic effects out of the glass. 13 inches tall. Made Febuary 2003

Metallic Vase
(Eugene Rain)

Metallic, onyx, and carmel vase. Made Feb 2003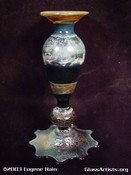 Vases
(Zed)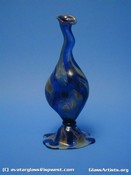 Cups, Vases, Cane
(Chris Beck)

Chris pulls his own cane and has a vibrant, non-traditional use of color.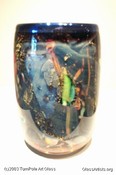 inside out fume and dichro vase
(Kevin Nail)

13" tall inside out vase- biggest one yet! Actually it was one of my firsts- I was feeling a bit ambitious.