Barry Entner
Barry Entner was born on November 1, 1959 in Brookline, Massachusetts, the youngest of 5 children. Early on in life Barry was interested in sports, but that changed when he got to high school. He became more curious in classical art forms such as painting and sculpture and more specifically with the artists Bosch and Breugal. He also studied painters such as Picasso, Gaugin and sculptors Henry Moore, Constantine Brancusi and more recently David Smith.
Entnerís interest in sculpture grew as he started his senior year at Tulane University. After graduating, he apprenticed with David Goldhagen and studied glass sculpture at Penland School of Crafts in North Carolina as well as the Masssachusetts College of Art. Entner also worked for Brimstone Glassworks as a designer and artist from 1985-1997.
Entnerís commissioned work has been chosen for many public and private collections. Some of these are as follows:
Irvin Borowsky, Philadelphia, PA
King Hassan II, Morocco
Samuel and Margaret McKeel, Chicago, IL Hale Koa Hotel, Honolulu, HI
The artist has also had numerous international exhibitions in Germany, Japan and Switzerland. Entner has donated pieces for several fund raising auctions as well as a way to contribute to the less fortunate.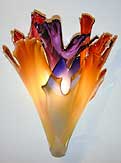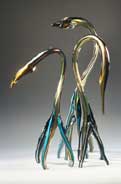 Flora Wall Sconce and Nuclear Family Triad